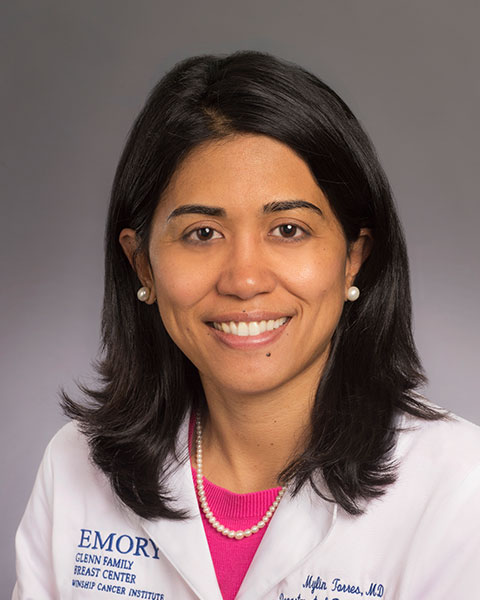 Mylin Torres, MD
Emory University
Disclosure:
Employment
Emory University School of Medicine: Associate Professor: Employee

Compensation
NIH: Research Grants; Susan G. Komen: Research Grants
Biography:


Dr. Mylin Torres is an Associate Professor in the Emory University School of Medicine Department of Radiation Oncology. She specializes in the treatment of breast cancer and is currently the Director of the Emory Glenn Family Breast Center and Louisa and Rand Glenn Family Chair in Breast Cancer Research. Her research program is dedicated to understanding the biology underlying treatment-related side effects, including chronic inflammation and cancer-related fatigue.

Dr. Torres has received highly competitive grants from the National Cancer Institute, Radiation Therapy Oncology Group, Susan G. Komen, Avon Foundation, NCCN, Pfizer Oncology, and Winship Cancer Institute to support her research and efforts to improve disparities among African American patients. She serves on the editorial board of the Journal of Clinical Oncology.
Dr. Torres holds the Louisa and Rand Glenn Family Chair in Breast Cancer Research at Winship Cancer Institute.

She received Atlanta Business Chronicle's Healthcare Heroes Rising Star and Winship Cancer Institute's Above and Beyond Awards. Atlanta Magazine also named her as one of the "Women Making a Mark" in the Atlanta community.

Dr. Torres graduated magna cum laude from Harvard University and received her medical degree from Stanford University before completing her training in radiation oncology at The University of Texas MD Anderson Cancer Center.


Presentation(s):
Wednesday, October 24
2:37 PM – 2:50 PM