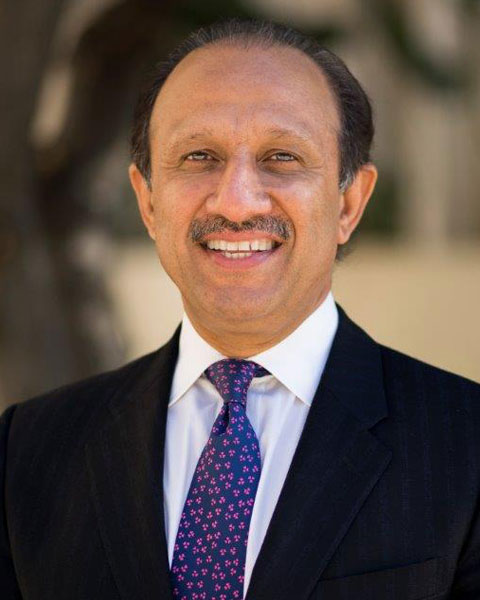 Inderbir S. Gill
Keck School of Medicine, University of Southern California, Los Angeles
Dr Gill joined the University of Southern California (USC) in 2009 as chairman & professor, department of urology. Prior to this, he was chairman & professor, department of urology at Cleveland Clinic, Cleveland, OH, where he was on faculty for 12 years (1997-2009).

His academic track record includes over 636 peer-reviewed scientific papers with over 27,000 citations. He has edited/co-edited 10 text-books and has been on the editorial board of 9 urologic journals. Funded by the NCI, he has been invited for over 450 visiting professorships, invited lectures and live surgery demonstrations world-wide. He is elected to the prestigious American Association of Genito-Urinary Surgeons (2003) and the Clinical Society of AAGUS (2009).

Dr Gill has received many honors. In 2005, the President of India awarded him the Dr. B. C. Roy National Award for Eminent Medical Person. In 2006, he was awarded the St. Paul's Medal by the British Urological Association (BAUS) for 2006, the highest honor that can be bestowed by the BAUS. He has been named honorary Fellow of the Royal College of Surgeons of England. In 2006, he was President of the 24th World Congress of Endourology and SWL, and organized in Cleveland, with over 1700 attendees from 62 countries. He was awarded the "USC Presidential Medallion" for 2013, the highest annual academic honor that USC can bestow from all 19 of USC's schools. He has been listed amongst "Best Doctors in America" for several years now. His minimally invasive team has won over 35 best abstract awards at various annual meetings of the AUA and other urologic societies over the past 5-7 years.

Dr. Gill's primary focus is advanced robotic urologic oncologic surgery, with one of the world's largest aggregate robotic/laparoscopic experiences in approx 11,000 cases in the United States.
Presentation(s):