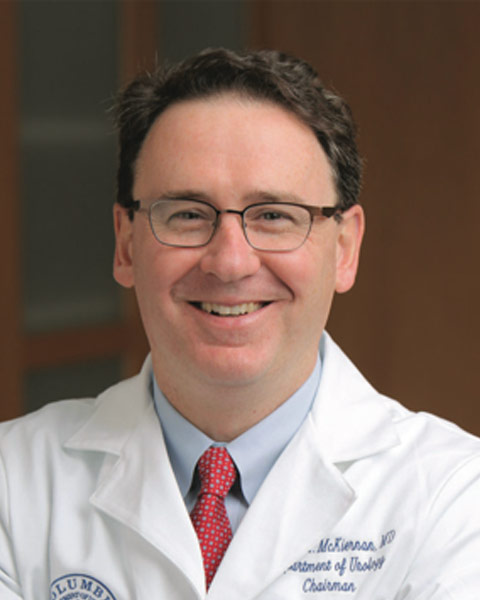 James M. McKiernan
Columbia University
James McKiernan, MD is the John K. Lattimer Professor and Chairman of the Department of Urology of the College of Physicians and Surgeons and urologist-in-chief at New York-Presbyterian/Columbia. The Department of Urology at Columbia is currently ranked 5th in NIH research funding in America and NewYork-Presbyterian's urology program ranked No. 6 in the latest U.S. News & World Report ranking of America's best hospitals. Dr. McKiernan graduated from Johns Hopkins University with a BA in biology and received his MD from Columbia University College of Physicians and Surgeons. He completed his training in urology and general surgery at Columbia Presbyterian, followed by a urologic surgical oncology fellowship at Memorial Sloan-Kettering Cancer Center. Dr. McKiernan specializes in urologic oncology, particularly surgical therapy in high-risk patients with bladder and kidney cancers. His research focuses on developing novel therapeutics for bladder cancer treatment as well as comparative effectiveness research in urologic oncology. In addition, Dr. McKiernan is the principal investigator of the NIH-funded clinical trials program of experimental therapeutics in bladder cancer at Columbia, which is investigating new agents for bladder preservation in patients whose cancer has recurred after standard therapy. In collaboration with researchers at Columbia's Herbert Irving Comprehensive Cancer Center, his team continues to develop novel translational therapeutic strategies for treating bladder cancer.
Dr. McKiernan's research has been published in Cancer, Cancer Research, the Journal of Clinical Oncology, JAMA Oncology, Journal of Urology, Urologic Oncology, and Urology. He has authored and co-authored more than 200 scientific articles and book chapters on urologic oncology.
He has served as the Vice Chairman for the AJCC TNM Staging Task Force, Vice-Chair of the AUA Guidelines Panel on non-muscle invasive bladder cancer, as well as on the American Board of Urology and Society of Urologic Oncology Examination Committees.

Presentation(s):