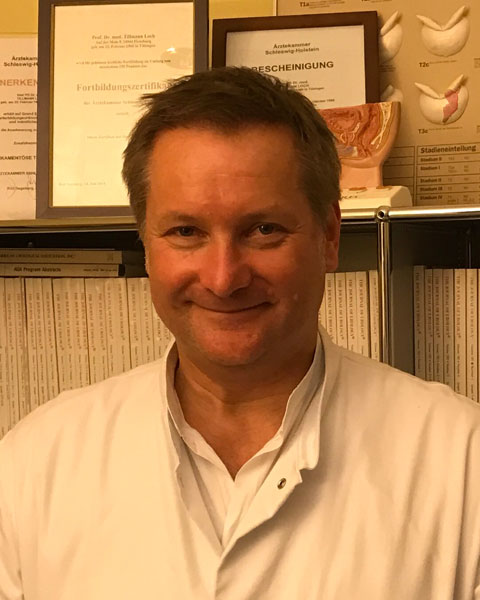 Tillmann Loch
Department of Urology, DIakonissenkrankenhaus Flensburg, University Teaching Hospital
Prof. Dr. Tillmann Loch has received his medical education from University of Hamburg and Christian-Albrechts-Universität (CAU) in Kiel, Germany. He completed his Surgery Fellowship from Dallas Presbyterian Hospital and Postdoctoral fellowship at Stanford University. He is also board certified in Urology and Sports medicine.

He worked as acting C4-professor and Dept. of Urology at CAU Kiel in 2001, was the Vice Chairman of Urology and Pediatrics department in University of the Saarland until 2004. He has been the Chairman of Urology department at Diakonissenkrankenhaus University teaching hospital the since 2004. Co-chairman of the China-German Prostate Health Center and Visiting Professor, Department of Urology of the First Affiliated Hospital, College of Medicine, Zhejiang University.

Prof. Dr. Loch has received scientific awards including Peter Bischoff Preis der Vereinigung Norddeutscher Urologen, Bard Preis der Deutschen Gesellschaft für Urologie, Werner-Staehler-Gedächtnispreis der Südwest- deutschen Gesellschaft für Urologie and Maximilian Nitze Preis der Deutschen Gesellschaft für Urologie (highest scientific award of the society).

He also holds membership in several urological societies including European Association of Urology (EAU) and American Urological Association (AUA). He is the past chairman of European Society of Urological Imaging (ESUI), member of the EAU guideline office board, chairman of the Section 'Bildgebende Systeme' (Imaging) of Deutsche Gesellschaft für Urologie (DGU) and Chairman of Urologic Section of Deutsche Gesellschaft für Ultraschall in der Medizin e.V. (DEGUM) German speaking Society of Ultrasound in Medicine.


Presentation(s):