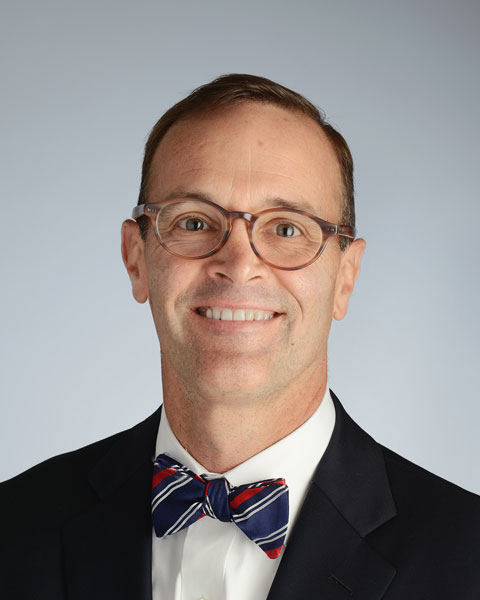 Jeffrey M. Holzbeierlein
University of Kansas Health System
Dr. Jeffrey Holzbeierlein is the John W. Weigel Endowed Professor of Urology, the Director of Urologic Oncology, and the Chair of the Department of Urology at the University of Kansas Medical Center. He was raised in Edmond, Oklahoma and received his undergraduate degree from Vanderbilt University and his medical degree from the University of Oklahoma. He joined the faculty at KU after completing his internship and residency at Vanderbilt University and a fellowship in Urologic Oncology at Memorial Sloan Kettering Cancer Center in New York.

Dr. Holzbeierlein is the immediate Past President of the South Central Section of the American Urological Association. He is the Secretary of the Society of Urologic Oncology where he is the past Chair of the Fellowship Committee and serves on the Executive Board of the SUO. He has served on the American Board of Urology Examination Committee and is a past Assistant Editor for the Journal of Urology. He currently is a member of the Oral Boards Committee and has served on numerous AUA Committees. He is the Chair for the Program Committee for GU ASCO. Dr. Holzbeierlein is also the past Chair and founding member of the Young Urologic Oncologists Section of the Society of Urologic Oncology. He has also been awarded the Resident Mentoring Award for faculty at the University of Kansas Hospital and the Distinguished Service Award from the Society of Urologic Oncology.

He has intramural and extramural grant support including a co-investigator on an R01, and as PI on several investigator initiated trials as well as a co-PI on a multi-instituntional SWOG trial.

Dr. Holzbeierlein's research interest includes the androgen receptor as a target of Hsp90 inhibitors in prostate cancer and clinically decreasing the morbidity associated with cystectomy. He lives in Kansas City with his wife Jill and their 4 children.
Presentation(s):