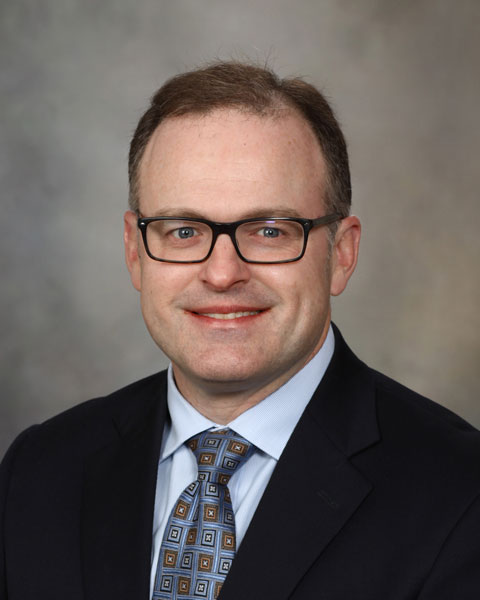 Matthew T. Gettman
Mayo Clinic
Matthew T. Gettman, M.D., is a consultant and vice-chair for clinic practice in the Department of Urology at Mayo Clinic. Dr. Gettman joined the staff of Mayo Clinic in 2001 and holds the academic rank of professor of urology and was recently named the Haub Family Professor of Urologic Oncology in honor of Horst Zincke, M.D. by the Mayo Clinic College of Medicine and Science.

Dr. Gettman received his B.S. from the University of Akron and his M.D. from Northeastern Ohio Medical University. He completed surgical internship and urologic residency at Mayo Clinic School of Graduate Medical Education. He received fellowship training in urology at three institutions, including in the minimally invasive surgery program at the University of Texas Southwestern Medical Center, in laparoscopic oncology and robotics at the University of Innsbruck, and in laparoscopy and robotics at the Universite De Creteil in Paris. He was a Mayo Foundation Scholar at Mayo Clinic School of Medicine.

As the first full-time robotic surgeon at Mayo Clinic, Dr. Gettman was instrumental in pioneering Mayo's robotic surgery program. His work has resulted in two U.S. patents, and his research findings are widely published in high-impact, peer-reviewed journals. In addition, he serves on the editorial boards of European Urology, Journal of Robotic Surgery, British Journal of Urology International, Videourology and Simulation in Healthcare and is a section editor for Mayo Clinic Proceedings. In addition he is a reviewer for prominent scientific publications.In recognition of his work, Dr. Gettman has received numerous honors and awards, including the Cook Urological "Arthur" Award conferred Endourology Society, Reviewer of the Year awards conferred by European Urology and the Journal of Endourology and the Platinum Award given by the European Urologic Association.



Presentation(s):