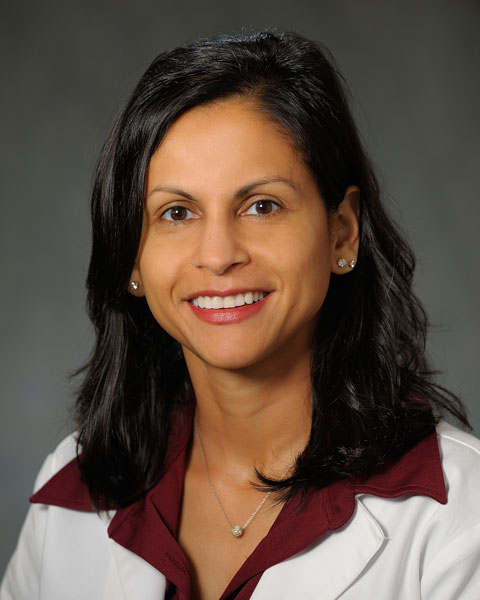 Neha Vapiwala
University of Pennsylvania
Neha Vapiwala, M.D. is an Associate Professor and Vice Chair for Education in the Department of Radiation Oncology and the Assistant Dean of Students in the Perelman School of Medicine at University of Pennsylvania. Dr. Vapiwala earned a dual Bachelor of Arts in Biology and Hispanic Studies from Johns Hopkins University. Upon graduating early, she worked as a high school science and math teacher prior to matriculating at the University of Pennsylvania School of Medicine as a Twenty-first Century Scholar. Following her radiation oncology residency training at University of Pennsylvania, she joined the faculty and was appointed Residency Program Director as well as Chief of Genitourinary Radiation Oncology.

Dr. Vapiwala is the principal investigator of several investigator-, industry- and cooperative group-led clinical trials. Her research efforts have focused on the development of radiation therapy techniqes and novel imaging biomarkers for prostate cancer, as well as incorporation of integrative therapies for symptom management. She serves as Co-Chair of the ECOG-ACRIN cooperative group Early Modality subcommittee on Genitourinary Cancers and is an appointed member of the National Cancer Institute Genitourinary Steering Committee's Prostate Cancer Task Force. Clinically, Dr. Vapiwala has an active oncology practice at Penn; she has been named to the national and regional Top Doctors lists in 2015, 2016 and 2017, and was recently inducted into the Academy of Master Clinicians at Penn Medicine.

Dr. Vapiwala currently also serves as the President of the Association of Directors of Radiation Oncology Programs and Vice Chair of the Radiation Oncology Residency Review Committee of the Accreditation Council for Graduate Medical Education. She is also a member of the Society of Urologic Oncology, American Society of Clinical Oncology, American Society for Radiation Oncology.

Presentation(s):
Friday, May 18
10:30 AM – 11:00 AM