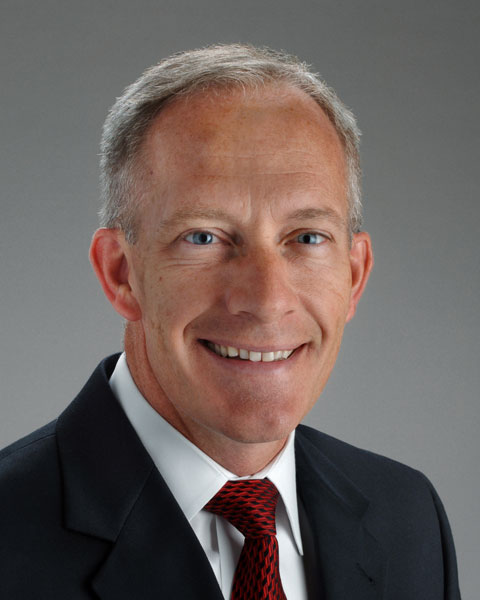 J. Brantley Thrasher
Department of Urology, University of Kansas Health System
J. Brantley Thrasher, MD, FACS is Professor and the William L. Valk Chair, Department of Urology and the Co-Director of Operative Services at the University of Kansas Medical Center in Kansas City, Kansas. He completed his medical degree at the Medical University of South Carolina in Charleston, South Carolina, an internship at Walter Reed Army Medical Center in Washington D.C., and his urology residency at Fitzsimons Army Medical Center in Aurora, Colorado. He subsequently completed a urologic oncology fellowship at Duke University Medical Center. He served for three years as Program Director for the Urology Residency Program at Madigan Army Medical Center in Tacoma, Washington, and was then appointed to his present position in 1998.

Dr. Thrasher has served as President of the Society of Urology Chairpersons and Program Directors, the Society of Urologic Oncology, and as a member of the Residency Review Committee for Urology. He has served as Vice-President of the American Board of Urology and is a member of the American Association of Genitourinary Surgeons. He is a Diplomat of the American Board of Urology, a member of the American Association of Genitourinary Surgeons and a member of the Clinical Society of Genitourinary Surgeons.

He served as the South Central Section Representative to the AUA Board of Directors, as a member of the South Central Section Health Policy Committee, and is a former president of the South Central Section. He was previously the Chair of the Public Media, Practice Guidelines and Prostate Cancer Guidelines (vice-chair) Committees, a mentor for the AUA Leadership Program, a member of the Best Practice Policy Panel on Cryotherapy for the Treatment of Prostate Cancer, the Chair of the Prostate Cancer Literature Review Panel and the Audio-Visual Committee of the AUA. In 2015, he was awarded the Distinguished Service Award from the AUA, for 15 years of service to academic and organized urology. He is an associate editor for the book, "The 5-Minute Urology Consult;" Editor for Practical Reviews in Urology, and an Editorial Consultant for Urology Times. He has published more than 200 manuscripts, book chapters and monographs in the area of urologic oncology. He has been a member of the AUA since 1994.
Presentation(s):