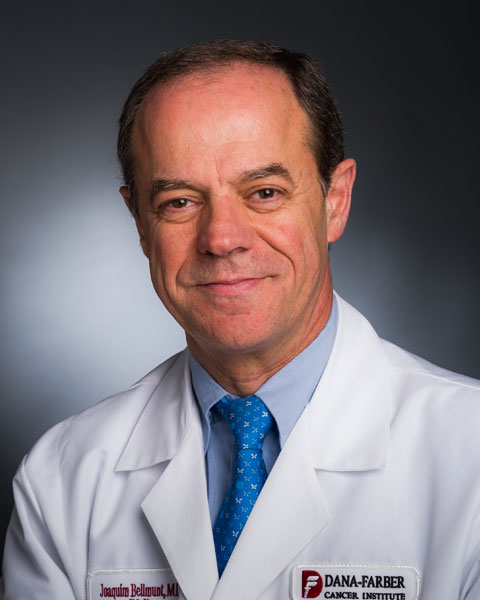 Joaquim Bellmunt
Harvard Medical School
Joaquim Bellmunt MD PhD, Associate Professor at Harvard Medical School. Dana Farbar Cancer Institute. He is an attending physician at the Bladder Cancer Center at Dana-Farber Cancer Institute and Dana-Farber/Brigham and Women's Cancer Center, Harvard University, Boston, MA. He graduated in Medicine and Surgery from the Autonomous University of Barcelona in 1982 and obtained his PhD cum laude in 1989 Dr. Bellmunt joined the Department of Medical Oncology, Hospital Vall d'Hebron taking over the Uro-oncology Clinic. In January 2006, he was appointed Chief of the Solid Tumor Oncology Service of the Hospital del Mar in Barcelona. On March 2013, Dr. Bellmunt was appointed Director of the DFCI Bladder Cancer Clinic and Associate Professor at Harvard.

As a genitourinary (GU) medical oncologist, Dr. Bellmunt has led urothelial cancer trials for over 15 years in Europe and continues doing so at DFCI. Recently, his research at the Bladder Cancer Center has focused on the role of checkpoint inhibitors in the treatment of GU malignancies (bladder and kidney). Dr. Bellmunt is now implementing prospective data collection of patients included in the immunotherapy trials in order to understand the underlying genetic and biological mechanisms of response and resistance. 

Dr. Bellmunt is a member of the American Association for Cancer Research (AACR), American Society of Clinical Oncology (ASCO), the European Society of Medical Oncology (ESMO) and the Spanish Society of Medical Oncology (SEOM). He has been part of the ASCO Congress Scientific Committee of the American Society of Clinical Oncology-Genitourinary (ASCO GU) where he has been involved in conferences as a Faculty Member. Dr. Bellmunt is also involved in most European guidelines for GU malignancies, including ESMO, SEOM and the European Association of Urology (EAU) and in the U.S. in the Society for Immunotherapy of Cancer (SITC) guidelines for BC.
Presentation(s):