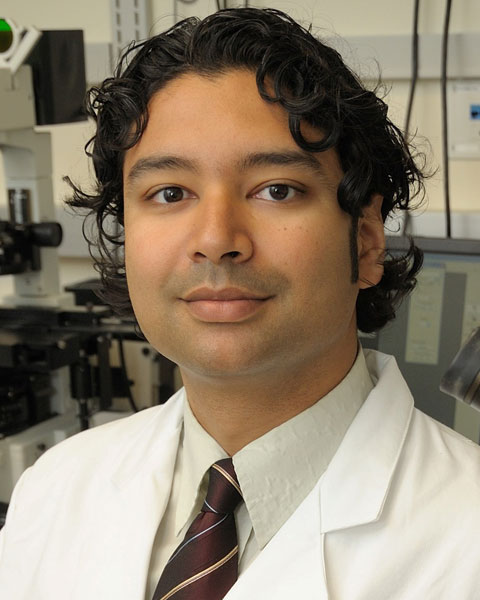 Srinivas Vourganti
Rush University Medical Center
Dr. Srinivas Vourganti, MD is a board-certified urologic oncologist who serves as faculty at Rush University Medical Center in Chicago. He states: "Though it's been an exciting time in the technical advancement of surgery, the science has yet to fully reach the patient's bedside, and both overtreatment and undertreatment are rampant." It was a desire to address this need that drove him to complete a clinical and research fellowship at the NIH Urologic Oncology Branch of National Cancer Institute. There, he had the honor to collaborate with world experts in cancer care as well as leading basic scientists/engineers to develop new ideas to bring to the clinic. In addition to treating patients with complex cancers, there he spent three years developing innovative interventions focused on better and more certain diagnosis, and less invasive treatments.

As he continues his career at Rush University Medical Center in Chicago, he brings this experience to provide the highest quality, cutting-edge care to his patients while minimizing the impact that this treatment has on their quality of life. Dr. Vourganti is committed to limiting overtreatment of non-aggressive cancers. When appropriate, he prefers a strategy of active surveillance and careful integration of genetic testing in cancer care. Most importantly, he endeavors to continue his research to move the field forward.

Dr. Vourganti's research has been widely published in leading peer-reviewed medical journals and he has authored several textbook chapters. He has been honored with numerous speaking invitations nationally and internationally. His expertise in the burgeoning field of imaging based prostate cancer diagnosis and treatment has been recognized and he has contributed as faculty in multiple hands-on courses in MR/US fusion guided prostate biopsy sponsored by the American Urological Association in order to contribute to the advancement of the greater Urologic community.

Presentation(s):