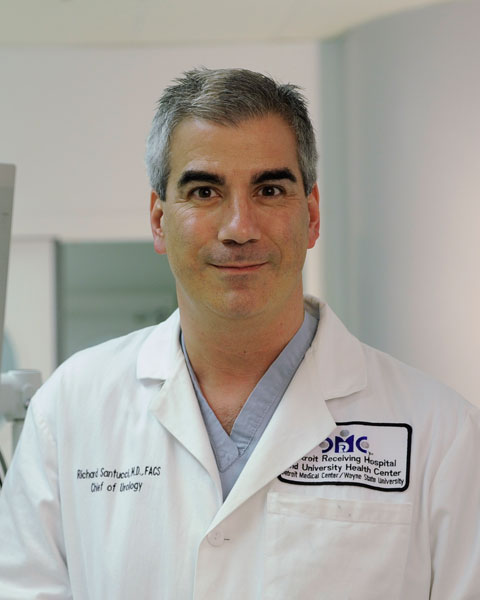 Richard Anthony Santucci
Richard A. Santucci, MD, FACS

Dr. Santucci is the former Director of the Center for Urologic Reconstruction™ and Specialist-in-Chief for Urology at the 9-hospital Detroit Medical Center.

For 18 years, Dr. Santucci's clinical practice focused on urologic reconstruction and trauma, including urethral stricture disease, ureteral injury, buried penis and plastic repair after hydradenitis removal and Fournier's gangrene.. Now, Dr. Santucci works full time in the field of gender reassignment surgery at Brownstein-Crane Surgical Services.

As an author of more than 100 scientific articles, Dr. Santucci has served on the editorial boards of more than twelve journals. He is the co-editor of the texts Emergencies in Urology, the Atlas of Urethroplasty, and Penile Reconstructive Surgery. He is the founding Editor-in-Chief of the online open-access Urology journal "Advances in Urology", and co-creator of the world's first high definition surgical video website, iclinics.org.

Dr. Santucci is a graduate of the AUA Leadership Program Class of 2009, was a member of the AUA Urotrauma Guidelines panel, the AUA Urotrauma Legislation Task force, the WHO International Consultation on Urologic Diseases (ICUD-urethra), and was an advisor to the US Marines Dismounted Blast Injuries Task Force. He recently served as the co-Chairman of the AUA Urethroplasty Guidelines panel. Dr. Santucci sat on the Board of Chairman of the Societé Internationale D'Urologie (SIU) and the Executive Committee of the Michigan Urologic Association (MUS) and currently serves as its President.
Presentation(s):