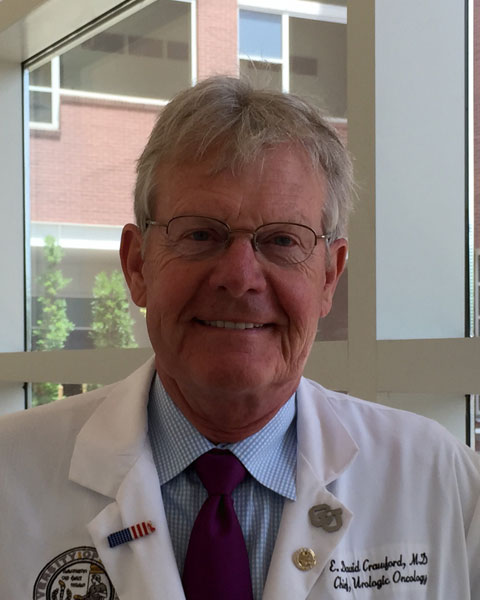 E. David Crawford
University Of Colorado
Dr. Crawford is the distinguished Professor of Surgery, Urology, and Radiation Oncology, and head of the Section of Urologic Oncology at the University of Colorado Anschutz Medical Campus. He is an active clinician, researcher, and teacher. He has been recognized as one of the Best Doctors in America, one of the Best Cancer Doctors, one of the Top 20 Urologists in the county by Men's Health Magazine, and recently selected as the Healthcare Provider of the Year in the Denver Metro Area by The Denver Business Journal. In addition, he is the recipient of more than 95 research grants in the diagnosis and treatment of prostate cancer, metastatic prostate cancer, hormone refractory prostate cancer, benign prostatic hyperplasia (BPH), advanced bladder cancer, and other areas of urological infections and malignancies. He has authored or coauthored over 650 published articles, contributed to nearly 100 educational books and provided thousands of educational talks for patients and physicians.
 
In an effort to raise awareness and education about prostate health, Dr. Crawford founded and is the current Chairman of the Prostate Conditions Education Council, a non-profit organization which is responsible for reaching an average of 400 million people each year with education and awareness information.
 
On prostate cancer and men's health issues, his involvement in the national prostate cancer arena has been widely recognized and he is often requested to act as an educator, speaker, participate in advisory boards, review research or serve as a legal expert.
 
Dr. Crawford is an active member of many national and international organizations, including the American Society of Clinical Oncology, American Urological Association (AUA), and the American Association for the Advancement of Science.

Presentation(s):