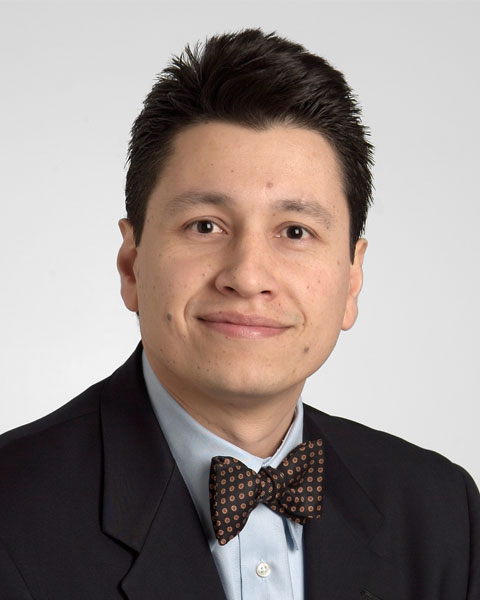 Jorge A. Garcia
Cleveland Clinic
Jorge A. Garcia, MD., FACP, is The Kerscher Family Chair for Clinical Prostate Cancer Research at the Cleveland Clinic. Dr. Garcia is a staff physician and member of the Department of Hematology and Oncology and Urology at the Cleveland Clinic's Taussig Cancer Institute and Glickman Urological & Kidney Institute. Dr. Garcia's work focuses on clinical and translational research in genitourinary malignancies. He is the current director of the advanced prostate cancer research program at the Cleveland Clinic. He is an Assistant Professor of Medicine at the Cleveland Clinic Lerner College of Medicine of Case Western Reserve University in Cleveland, Ohio.
Dr. Garcia earned his medical degree at the Colombian School of Medicine in Bogota, Colombia. After completing a Cancer Biology Fellowship at Harvard Medical School, he completed his training in Internal Medicine at the Albert Einstein College of Medicine in New York. Subsequently, Dr. Garcia was awarded a fellowship in hematology and oncology and Urologic Oncology at the University of California San Francisco.
Certified in Medical Oncology and Internal Medicine by the American Board of Internal Medicine, Dr. Garcia's primary research at the Cleveland Clinic has been in prostate, kidney and bladder cancer, with special focus on developmental therapeutics. Dr. Garcia's has authored over 100 manuscripts and his research has been published in peer-reviewed journals that include New England Journal of Medicine, Clinical Cancer Research, Journal of Clinical Oncology, Journal of the National Cancer Institute, Lancet Oncology, Journal of Urology, Cancer and BJU International among others.
Dr. Garcia is a Fellow of the American College of Physicians. He is also the Chair of the Scientific Protocol Review Committee at the Comprehensive Cancer Center at Case Western Reserve University. Dr. Garcia has also been listed among the best doctors in Cleveland and the US every year since 2009.

Presentation(s):
Friday, May 18
8:30 AM – 9:00 AM