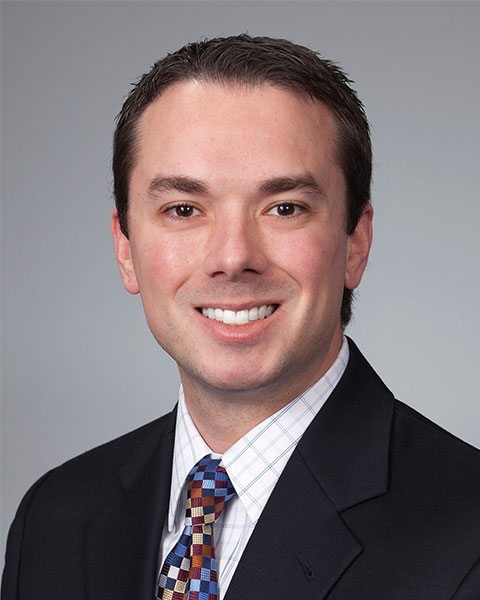 James E. Eubanks
Resident Physician
University of Pittsburgh Medical Center (UPMC), Department of Physical Medicine and Rehabilitation
James ("Jim") E. Eubanks, Jr., MD, DC, MS, is a Resident Physician in the Department of Physical Medicine and Rehabilitation (PM&R) at the University of Pittsburgh Medical Center (UPMC). He earned his MD at Brody School of Medicine at East Carolina University with Distinction in Research.

Originally from Charlotte, NC, Jim earned a bachelor of arts (BA) in philosophy with honors from Furman University in Greenville, SC. While at Furman, he began formal training in mindfulness studies under the direction of David E. Shaner, PhD. In 2005, Jim attended Logan University in St. Louis, MO, where he earned a bachelor of science (BS), master of science (MS) in sports science and rehabilitation, and a doctor of chiropractic (DC).

Jim moved back to Charlotte in 2010 and completed a first-of-its-kind clinical fellowship in Primary Spine Care at OrthoCarolina Spine Center from 2011-2013 under the direction of the late Craig D. Brigham MD. He joined the OrthoCarolina Research Institute (OCRI) as a musculoskeletal medicine consultant and clinical policy developer for a partnership with eviCore Healthcare from 2012-2014.

While in medical school, Jim served as the Orthopedics and PM&R Scholar for Osmosis Medical Education, a project supported through the Robert Wood Johnson Foundation. In 2015, he completed an eight-week medical externship through Northwestern Feinberg School of Medicine's department of PM&R at Shirley Ryan AbilityLab. Jim was awarded the 1st place 2016 Sarah Baskin Award for Excellence in Research by Shirley Ryan AbilityLab, and the Medical Student Research Award by Brody School of Medicine in 2018.

Dr. Eubanks serves on the United States Bone and Joint Initiative (USBJI) "Musculoskeletal MedEd" coalition, which seeks to standardize the musculoskeletal medicine training in US medical schools. He is also founder and principle of PhysiatryNow.

Presentation(s):