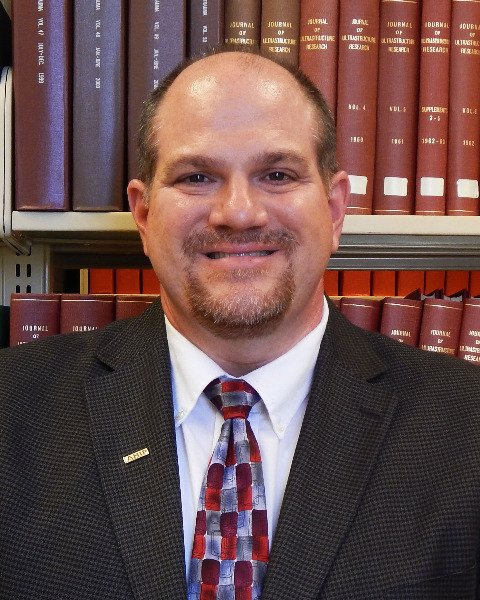 David A. Nolfi, AHIP
Head, Research Engagement, Health Sciences/STEM Initiatives & Assessment
Duquesne University, Gumberg Library
Duquesne University
Pittsburgh, Pennsylvania
David Nolfi, MLS, AHIP, is the Head of Research Engagement, Health Sciences/STEM Initiatives, and Assessment at Duquesne University's Gumberg Library. In that role, he leads the library's efforts to support students and faculty in the health sciences, natural sciences, and engineering as well as the library's special services for researchers.

Mr. Nolfi has been active in campus governance and committee work. He currently serves as a member of Duquesne University's Institutional Animal Care and Use Committee and Institutional Review Board. He previously served as chair of the faculty grievance committee and co-chair of the campus learning outcomes assessment committee. He previously worked as a medical librarian with responsibility for planning and marketing continuing medical education activities at Washington Hospital in Pennsylvania.

Mr. Nolfi has been a member of the Medical Library Association (MLA) since 1995, and is a Distinguished member of the Academy of Health Information Professionals. He has served MLA in many roles, including Co-Chair of the National Program Committee, Chair of the Mid-Atlantic Chapter, and Chair of the Nursing and Allied Health Resources Section (NAHRS), and member of the MLA Membership Committee.

Given his interest in how librarians can participate in institutional leadership, Mr. Nolfi has presented on related topics at a number of meetings including MLA, MAC, the Association of College and Research Libraries, Library Assessment Conference, Middle States Commission on Higher Education, Library Management Institute, and Pennsylvania Library Association. He believes that librarians should seek to be directly involved with faculty research and has published and presented with nursing and health professions faculty in varied publications and conferences.

Presentation(s):